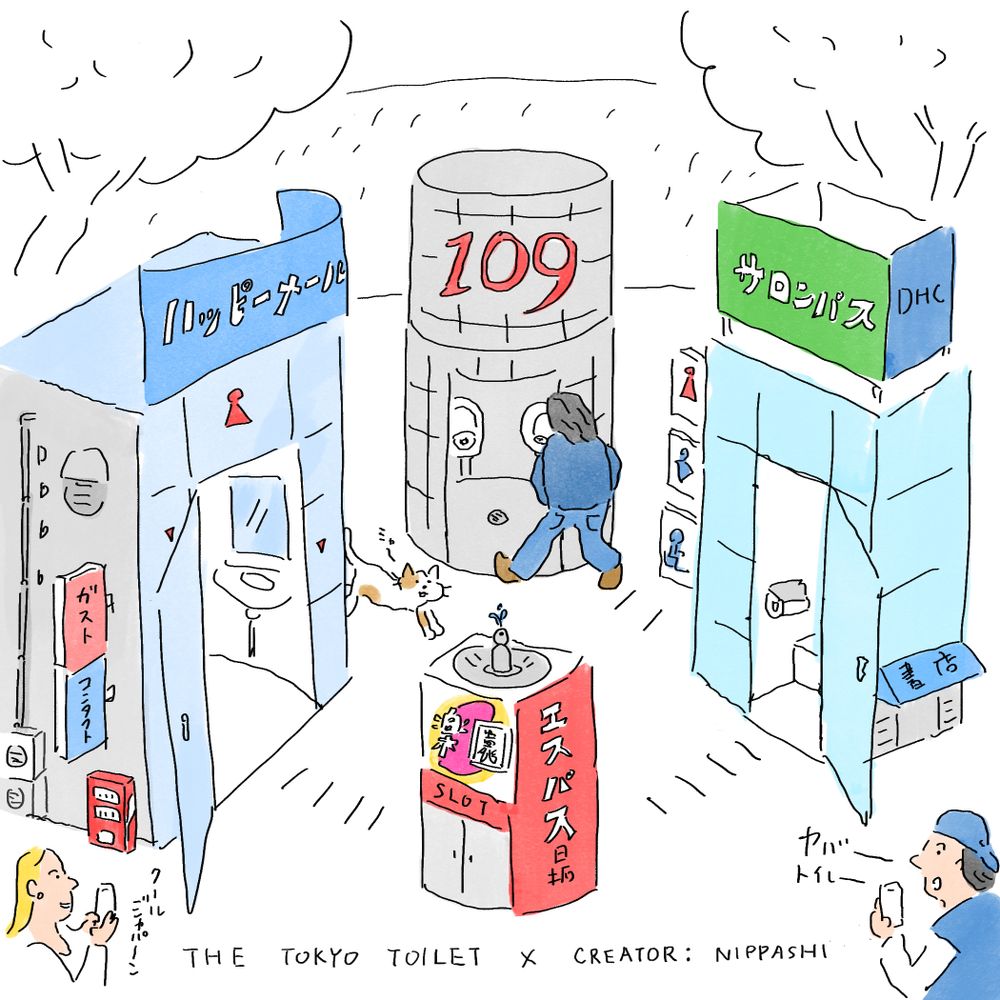 About the Team
I'm an illustrator who loves the buildings from the period of high economic growth in Japan and postmodern architecture during the bubble period. Since I was an architecture student, I've been thinking every day about how to preserve old buildings.
Idea Overview
When you search "Shibuya", you'd find a large number of images of the 109 building from the scrambled intersection. When I think of Shibuya, that image comes to mind first. However, when I visited there for the first time in two years the other day, I was surprised how much the city has changed.
In recent years, due to large-scale urban development, such as Shibuya Stream and MIYASHITA PARK that opened one after another, it is no longer possible to define what makes Shibyuya Shibuya.
Cities need to be updated, and there are many benefits brought by the redevelopment - However, Shibuya's miscellaneous uniqueness is steadily disappearing.
THE TOKYO TOILET? is an homage to "THE TOKYO TOILET" project, questioning what Tokyo used to be and what it is now.
The illustration describes the scenery of Shibuya that we want to preserve, and I gave each building a function as a public toilet. It contains some kitsch elements such as signboards, but I think that makes Tokyo special.
Background & Motivation
I am currently based in Berlin.
Like here, Tokyo had burnt down during the war, so most of the buildings in the city are made in the post-war period.
I was shocked when I got to know that the center of the city (a place like Shibuya in Tokyo) is preserved as it was in the 1960s. I knew the policy of treating the landscape carefully, but I didn't expect that even the buildings of the postwar reconstruction era have been part of the preservation.
Even in Tokyo, there are examples of pre-war cultural property-class architecture being preserved and utilized, but it seems that there is little awareness of preserving the entire landscape, including the surrounding area.
It is very likely that "Shibuya" in everyone's memory will disappear someday. As of 2021, the 109 building and the surrounding multi-tenant buildings are still there, but due to the impact of the corona recession, it is unknown what will happen in the future.
Is it possible to project Shibuya of today in a form other than the historical documentation board? When I was thinking about it, I just learned about an interesting initiative called "THE TOKYO TOILET" and came to think about what I could propose in connection with it.